Qaddafi forces push into Libya's east
(Read article summary)
Forces loyal to Muammar Qaddafi have launched what seems to be a campaign to take back parts of eastern Libya after a week of focusing on keeping control of Tripoli.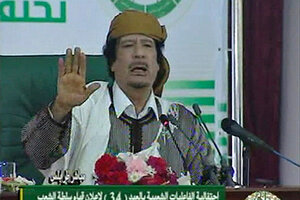 Libyan TV via Reuters TV/Reuters
• A daily summary of global reports on security issues.
Forces loyal to Libya's leader, Col. Muammar Qaddafi, are moving to retake parts of eastern Libya that fell into opposition hands last week. The offensive marks the first major attempt to push back after a week of digging in around Tripoli, the capital and Qaddafi's stronghold.
For a brief period Wednesday, pro-regime forces claimed they had retaken the eastern oil town of Al Brega. Opposition members say they have since reclaimed control of Brega with the help of fighters who rushed in from nearby towns, CNN reports.
Brega, which holds a key oil refinery, port, and airstrip, is on the western edge of the territory now in opposition hands, about 125 miles from opposition stronghold Benghazi, Associated Press reports.
Qaddafi's forces took the town relatively easily at dawn on Wednesday by catching opposition forces by surprise, opposition fighter Ahmed Dawas, who was in Brega, told the AP. Most of the fighters initially fled, only to come back at midday with reinforcements and reportedly retake the town.
---