Suspected Al Qaeda attack kills four in Yemen
(Read article summary)
The attack comes as Yemeni President Ali Abdullah Saleh refuses to step down early, and US, UK warn citizens to leave country.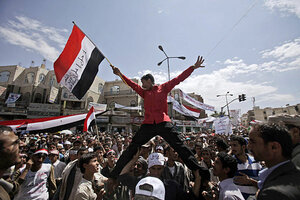 Muhammed Muheisen/AP
• A daily summary of global reports on security issues.
Four soldiers were killed in Yemen by gunmen suspected to be members of Al Qaeda, heightening tensions a day after President Ali Abdullah Saleh rejected an opposition plan to step down before the end of the year. The plan, submitted last week, was intended to placate protesters demanding a new government in the wake of President Hosni Mubarak's ouster in Egypt.

The Associated Press reports that, according to security officials, Al Qaeda gunmen ambushed members of the elite Republican Guard as the soldiers delivered food to military checkpoints near Marib, about 100 miles east of the capital of Sanaa. A security source said that attackers escaped after the attack. AP notes that Marib is an Al Qaeda stronghold where the government has little authority.
---