Beaten BBC journalists reveal details of Qaddafi's torture apparatus
(Read article summary)
Three BBC journalists detained outside Zawiyah said they were beaten and subjected to 'mock executions.' The UN is investigating separate allegations of torture.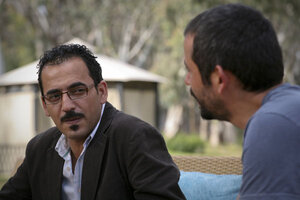 BBC/Reuters
• A daily summary of global reports on security issues.
Security forces loyal to Libyan strongman Muammar Qaddafi reportedly tortured three BBC journalists who were detained when trying to reach the embattled city of Zawiyah. The reports of abuse came as the UN's special rapporteur for torture announced that he was looking into allegations that Mr. Qaddafi's security forces have recently tortured opponents.
The BBC Arabic Service team told their news organization that they were detained at an Army roadblock Monday on their way to Zawiyah, the closest opposition-controlled city to Tripoli, where Qaddafi is holed up. As Qaddafi's forces have severely restricted the movements of foreign journalists into Zawiyah, the BBC team attempted to enter the city without government permission.
Feras Killani, Goktay Koraltan, and Chris Cobb-Smith were then detained for 21 hours and subjected to beatings and mock executions, they revealed in a BBC report published Thursday. This appeared to be their only interview since their release Tuesday.
"We were lined up against the wall. I was the last in line – facing the wall," said Mr. Cobb-Smith, a British journalist, according to a transcript provided by the BBC. "I looked and I saw a plainclothes guy with a small submachine gun. He put it to everyone's neck. I saw him and he screamed at me. Then he walked up to me, put the gun to my neck and pulled the trigger twice. The bullets whisked past my ear. The soldiers just laughed."
---