Bahrain authorities detain six opposition leaders
(Read article summary)
Bahrain appears to be shifting strategy from offers of dialogue to suppressing the protests. But the heavy-handed tactics seem to be merely hardening protesters' resolve.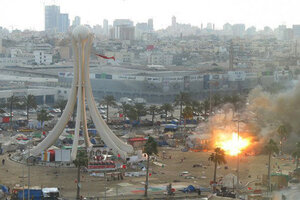 14 February Media Committee/AP
• A daily summary of global reports on security issues.
Bahrain authorities, bolstered by Saudi troops and a state of emergency, appear to be abandoning efforts to dialogue with protesters in favor of suppressing the demonstrations that began in earnest a month ago.
Security forces today detained at least six opposition leaders a day after a major crackdown that resulted in deadly clashes and expelled hundreds of protesters from Pearl Roundabout, the symbolic center of the protests. Those arrested include Hassan Mushaima and Abdul Jalil al-Sangaece, who were among 25 Shiites put on trial last year for plotting against the country's Sunni rulers.
The government recently dropped the case against the two opposition activists in a bid to calm unrest in the small Gulf nation after protests erupted last month. The AP said that Thursday's arrests suggest that the government, which had previously offered to enter talks with the protest movement, is now concentrating its efforts on suppressing protests.
---