Who's rethinking support for Libya's no-fly zone – and why
(Read article summary)
After a few days of Western airstrikes on Libya, initial international support is beginning to fall apart as disputes arise about what levels of military action are authorized by Thursday's UN resolution.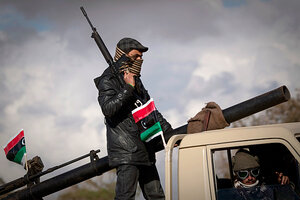 Anja Niedringhaus/AP
The initial relief that followed Thursday's passage of United Nations Security Council Resolution 1973 – which authorizes a no-fly zone and "all necessary measures" to protect Libyan civilians – has given way to criticism of its execution.
The resolution had broad international support when it passed 10-0 with 5 abstentions. But now, as questions arise over what a no-fly zone actually entails and what "all necessary measures" means – the dangers of which US Secretary of Defense Robert Gates tried to warn others about before the UN resolution – some of that support is falling off.
Arab League Secretary-General Amr Moussa said Sunday that the airstrikes on Libya may have gone beyond their intended scope and were possibly endangering Libyan civilians further. Mr. Moussa's statement shook Western powers, who did not want to be perceived as intervening in the Arab world without its support. (It's unlikely that the US or European countries would have voted in favor of the UN resolution had the Arab League not endorsed a no-fly zone the previous week.)
---
Follow Stories Like This
Get the Monitor stories you care about delivered to your inbox.