Yemen's President Saleh offers to step down by year's end
(Read article summary)
Yemeni President Ali Abdullah Saleh's concession comes closer to protesters' demands. But it also could complicate US counterterrorism efforts in the country, home to Al Qaeda in the Arabian Peninsula.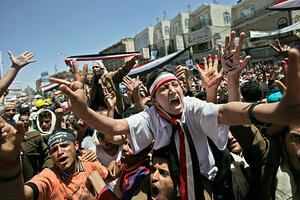 Muhammed Muheisen/AP
• A daily summary of global reports on security issues.
After the defection of several top military commanders yesterday and a wave of weekend resignations from Yemen's diplomatic corps, Yemeni President Ali Abdullah Saleh said through a spokesman Tuesday that he is willing to step down by year's end in a "constitutional" power transfer, according to Al Jazeera.
Mr. Saleh's increasing concessions – just weeks ago he firmly refused to even come up with an exit plan by year's end let alone leave office – raise questions about the future of America's counterterrorism cooperation with Yemen should he step down.
The tenuous partnership has been touted by US officials as imperative to reining in Al Qaeda in the Arabian Peninsula (AQAP), the regional franchise that has claimed responsibility for several attempted terrorist attacks on Western targets. While Saleh has not always been seen as completely cooperative, his regime and President Barack Obama's government carried on a "relationship of convenience," the Associated Press reports.
---
Follow Stories Like This
Get the Monitor stories you care about delivered to your inbox.