Worst Israel-Gaza clashes since 2009 war
(Read article summary)
The exchange of rockets and air strikes between Gaza and Israel the last few days is reminiscent of the buildup that escalated into the Israeli incursion into Gaza in 2009.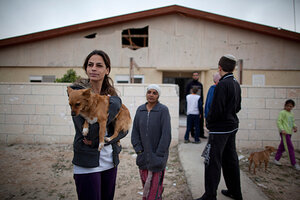 Oded Balilty/AP
• A daily summary of global reports on security issues.
Escalating attacks between Israeli defense forces and Gaza militants mark some of the worst violence since the Gaza war, and resemble the pattern of violence that led to the 2009 conflict.
Israeli forces and Palestinian militants have been exchanging rockets and attacks since Saturday. In that time Hamas has fired at least 60 rockets, and Israeli forces have conducted numerous air strikes and artillery attacks in response. At least 10 Palestinians have died so far.
Although both sides appear to want a deescalation of violence, there are growing concerns that the tit-for-tat violence may lead to a war like the one that took place in Gaza two years ago, known to Israelis as Operation Cast Lead.
"We may have to consider a return to that operation," said Israel's Vice Prime Minister Silvan Shalom in The Jerusalem Post. "I say this despite the fact that I know such a thing would, of course, bring the region to a far more combustible situation."
Israeli newspaper Haaretz writes that a small war has already started along the border between the Gaza Strip and Israel. What started as a series of small attacks has grown, as has the likelihood of a "broader conflict" – especially since the death of several Palestinian children was broadcast on television in Gaza and factions there vowed retaliation.
"The more time that passes and the larger the number of casualties, the harder it will be to stop the escalation," the article notes.
---