US soldier Morlock sentenced to 24 years for killing Afghan civilians
(Read article summary)
US Army Spc. Jeremy Morlock pleaded guilty to killing three Afghan civilians as part of a renegade 'kill team' made up of soldiers from the 5th Stryker Brigade.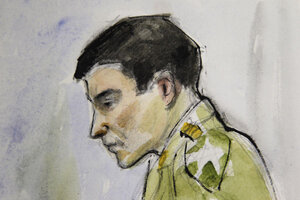 Lois Silver/AP
• A daily summary of global reports on security issues.
US Army Spc. Jeremy Morlock, one of 12 soldiers serving in Afghanistan who are under investigation for forming a "kill team" that secretly murdered Afghans, has been sentenced to 24 years in prison.
The 22-year-old Army specialist pleaded guilty to murdering three unarmed Afghan civilians in what US military prosecutors called "acts of unspeakable cruelty." The verdict comes just days after photos of Morlock posing with the corpse of an Afghan boy emerged, and has placed added pressure on the US military's relationship with Afghan civilians.
Appearing before an extraordinary court-martial hearing at the Joint Base Lewis-McChord in Washington, Morlock admitted to plotting the kidnapping and murders of Afghan civilians. He described how the group of accused soldiers planted weapons at crime scenes to make the victims appear to be terrorists.
When Judge Lt. Col. Kwasi Hawks asked Specialist Morlock whether the soldiers were trying to kill people or merely scare them, his answer was unequivocal. "The plan was to kill people," Morlock said, according to the BBC.
When the judge pressed further, asking, whether the soldiers knew that they were killing people that were completely innocent, Morlock replied, "Generally, yes, sir, everyone knew."
The killings took place between January and March 2010. In one incident that came to light in the hearing, Morlock described randomly killing a civilian, reports Al Jazeera.
---