Syria's Assad willing to lift emergency law
(Read article summary)
Syria's President Bashar al-Assad has come under increasing pressure this week as protests turned deadly. Syrians are staying a 'Day of Dignity' protest today.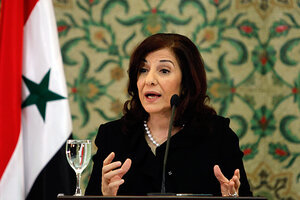 Khaled al-Hariri/Reuters
• A daily summary of global reports on security issues.
Despite early claims that Syria was immune to the protests sweeping across the Middle East, President Bashar al-Assad now finds himself forced to make concessions as protests gather momentum in the south.
Most notably, President Assad indicated that he is willing to lift the state of emergency, in place since 1963, that has given security forces a high degree of power. The move came after thousands of protesters took to the streets in the southern city of Deraa. The protests have turned violent, but although demonstrators allege that security forces were responsible for several deaths, the government has denied these claims. (See video.)
In addition to the offering possible reforms, on Thursday evening the president issued an executive order releasing all the activists who had been detained during the protests, reports Press TV. Syrian human rights groups have confirmed the release of detainees.
Buthaina Shaaban, the president's media adviser, has also emphasized the government's willingness to study possible reforms, but this pledge may come too late. Syrians are staging a "Day of Dignity" protest today.
---