Syrian troops enter key port city of Latakia after 12 killed in protests
(Read article summary)
Elsewhere in Syria, anti-government protesters torched a police station and tore down a statue of the former President Hafez Assad, father of current President Bashar Assad.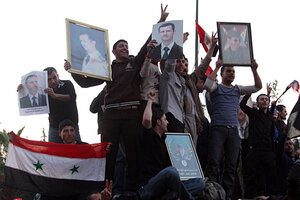 Bassem Tellawi/AP
• A daily summary of global reports on security issues.
The Syrian Army deployed troops to the country's primary port on the Mediterranean on Saturday night after a day of violence that saw anti-government demonstrators and government officials trading accusations over the deaths of at least two civilians.
Witnesses, speaking anonymously for fear of reprisal, said that troops arrived in Latakia under cover of night and established a presence in key areas of the port city, reports the Associated Press.
Activists say the two civilians were killed when Syrian security forces opened fire on demonstrators, but government officials claim the two were shot by renegade snipers, reports BBC News.
Syrian presidential adviser Bouthaina Shaaban told the BBC that "armed groups," rather than Syrian forces, were causing the violence in Latakia. Ms. Shaaban also accused Sheik Youssef al-Qaradawi, a Qatari cleric who condemned the violence against Syrian protesters Friday, for inciting the violence.
The Syrian government said Sunday that 12 people, including security forces, residents, and two members of shadowy "armed elements" died in the Latakia violence.
---