Ivory Coast's Gbagbo may be considering surrender
(Read article summary)
Overnight attacks by the UN and France on the residence of renegade president Gbagbo have empowered the forces of elected President Ouattara and reportedly brought Gbago to the brink of surrendering.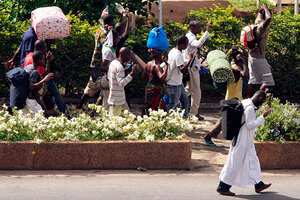 Luc Gnago/Reuters
• A daily summary of global reports on security issues.
The Ivory Coast leader who has refused to leave office after losing the November presidential election is reportedly negotiating his surrender today. United Nations and French forces attacked the residence of the renegade President Laurent Gbagbo Monday night in a bid to help hand power over to the internationally recognized winner of the election, opposition leader and International Monetary Fund economist Alassane Ouattara.
Ali Coulibaly, Mr. Ouattara's ambassador to France (Ivory Coast's former colonial power) told radio station France Info that the surrender was near, according to the Associated Press. "I'm not trying to be demagogical or to add to the disinformation, but according to the information that I have, he's negotiating his surrender because he has realized the end is near. The game is up," Mr. Coulibaly said.
---