NATO blames 'fluid' ground situation for airstrikes hitting Libyan rebels
(Read article summary)
NATO airstrikes in Libya may have killed rebel forces, but commanders have refused to apologize despite increasingly strained relations between the rebels and the military alliance.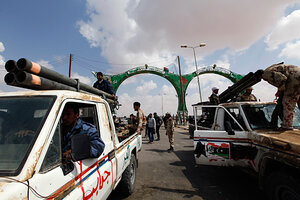 Youssef Boudlal/Reuters
• A daily summary of global reports on security issues.
After two NATO airstrikes may have caused the death of Libyan opposition forces, NATO commanders have refused to issue an apology, stating that it was a "very fluid" situation when their forces carried out the attack.
The refusal to admit wrongdoing comes at a time when rebel forces are accusing NATO of not doing enough to support their operations, but also as the United Nations has managed to deliver much-needed humanitarian aid to besieged rebels.
The airstrike in question hit several rebel tanks. NATO Rear Adm. Russell Harding, the deputy commander of operations in Libya, said that until the time of the bombings international forces had not seen rebels operating tanks. Rebel commander Gen. Abdelfatah Yunis, however, contests that his forces had told NATO they were moving tanks from Benghazi to Brega. He added that the rebels have 400 tanks and plan to get more, reports Al Jazeera.
---