US kills 6 suspected militants despite Pakistan's demand for end to drone attacks
(Read article summary)
The timing of the US drone attack, which reportedly killed six militants Wednesday in South Waziristan, is likely to strain an already fraught relationship with Pakistan.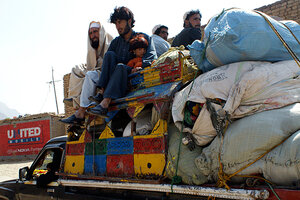 Qazi Rauf/AP
• A daily summary of global reports on security issues.
Two US drone strikes reportedly killed six suspected militants Wednesday in South Waziristan, a move that is likely to incense Pakistani officials who had just a day earlier disclosed their demand for a halt to all drone strikes.
It was the first drone attack since the March 17 strikes that killed up to 44 people, including a large number of civilians, CNN reported. The scale of that strike prompted unusually strong condemnation from Pakistani military officials.
A security official in South Waziristan told Reuters that two drones fired four missiles on a vehicle carrying militants. "We have confirmation of six [killed] but toll could be high," the official said.
The drone program has been controversial since it got under way almost seven years ago. Continuing it, even if it is a critical component of the US counterterrorism campaign, is likely to only exacerbate an already strained US-Pakistan relationship, highlighted by yesterday's demands for an end to drone strikes and a drawdown in the number of CIA and Special Forces operatives working in the country.
---