US officials: Iran helping Syria's Assad put down protests
(Read article summary)
The US has long been concerned about Iranian influence in Syria, which serves as the main conduit through which Iran sends weapons to Hezbollah and Hamas. Now, that influence could grow.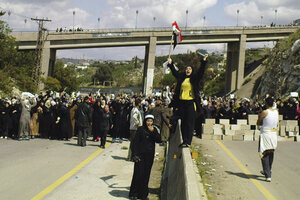 AP
• A daily summary of global reports on security issues.
Iran is providing Syria with gear to disperse the country's pro-democracy protests and is helping Syrian security forces block and track Internet and cellphone use among protesters, according to unnamed US officials quoted by The Wall Street Journal.
Iran's involvement, which could expand to other countries such as Bahrain, could challenge US and Saudi influence in the region, destabilize US allies, and heighten sectarian tensions, the Journal reported.
The Syrian protests that began weeks ago in the southern city of Deraa have now expanded to Aleppo, according to Reuters. They have steadily escalated, with tens of thousands turning out in the streets.
Women and children turned out in large numbers for the first time today, gathering on a coastal highway to demand the release of hundreds of Syrians from the country's northeast who have been detained during the protests, the Washington Post reported. About 100 of the detainees were released in an apparent attempt to appease the women.
---