Yemen's tribal leaders call for Saleh's immediate resignation
(Read article summary)
In a statement yesterday, religious and tribal leaders rejected Gulf states' efforts to mediate and backed a two-week deadline for Saleh's departure set earlier in the day by the political opposition.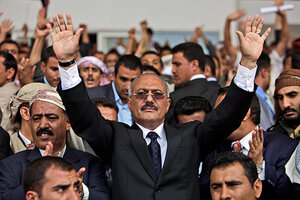 Muhammed Muheisen/AP
• A daily summary of global reports on security issues.
Yemen's religious and tribal leaders have joined the growing ranks of those demanding the immediate resignation of President Ali Abdullah Saleh.
In a statement issued late Thursday, they rejected a proposal crafted by the Gulf states' leaders that would have arranged a gradual transfer of power from President Saleh. Instead, they backed a two-week deadline for his resignation made earlier in the day by the political opposition, and added that all of Saleh's relatives should be removed from the country's military and security forces, Al Jazeera reports.
Yemen's tribes have been the wild card in the country's unrest, remaining divided over whether to support Saleh or the protest movement. Saleh is credited with holding the still deeply tribal country together, gaining the tribes' loyalty with money and other forms of patronage. When the protests in Yemen began in February, Saleh turned to the tribal leaders – not ruling party loyalists – for support, The Christian Science Monitor reported.
Saleh relied on the tribes to help put down protests in their early weeks, with some of them occupying the city's main square to prevent protests from happening. Now, with more tribal leaders defecting, as well as a key military leader, the number of people Saleh can rely on for assistance is dwindling.
Saleh received a major blow when Sheikh Hussein bin Abdullah al-Ahmar, a leader in one of Yemen's two powerful tribal confederations, resigned from the ruling party in February. His resignation also threatened to disrupt the delicate balance between the tribes, the Monitor wrote.
---