Government forces open fire on protesters in Syria's third-largest city, Homs
(Read article summary)
Hours after the Syrian government classified the protests as an 'armed insurrection,' Syrian forces used live bullets and tear gas on protesters camping out in Homs' main square.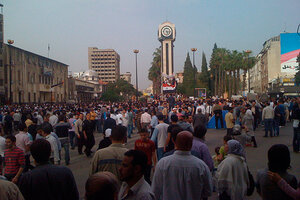 Reuters
• A daily summary of global reports on security issues.
Syrian security forces fired tear gas and live bullets on a crowd of thousands of protesters in the central square of Homs late Monday night, just hours after the Syrian Interior Ministry said the protests of the last few weeks are the equivalent of an "armed insurrection," Al Jazeera reported.
Homs, Syria's third-largest city, was shut down by the Army and surrounded by three rings of checkpoints before security forces opened fire on the demonstration at about 2:15 a.m. on Tuesday. A Syrian rights activist told Al Jazeera that there were 10,000 people in the city square at the time. In recent days, Homs has been the site of some of the country's largest protests.
The New York Times reports that the "renewed protests amounted to a rejection of concessions outlined by President Bashar al-Assad in a televised address Saturday, notably lifting the country's 48-year-old state of emergency by the end of this week."
---