Syrian security forces raid home of activists after breaking up funerals
(Read article summary)
The funerals and raids followed demonstrations Friday that ended with more than 100 people dead. Two members of Syria's parliament resigned in protest after security forces repeatedly shot into crowds of civilians.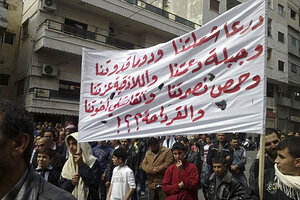 AP
• A daily summary of global reports on security issues.
Syrian police raided the homes of activists overnight Saturday, after firing on crowds at mass funerals that were held for protesters killed by security forces Friday.
Two parliament members and one government-appointed religious leader also resigned Saturday after an exceedingly violent weekend in which security forces repeatedly shot into crowds of civilians. At least 112 people have died in the past two days. While the crackdown is aimed at stopping the protests against President Bashar Al-Assad that started March 18, the mass uprising appears to be only swelling.
Al Jazeera reports that plainclothes police with assault rifles broke into activists' homes across the nation in the early morning hours Sunday and arrested dozens of men. An unspecified number were reportedly arrested outside Damascus, while the Syrian Observatory for Human Rights said 18 people were arrested in the cities of Idlib, Raqqa, and Aleppo.
The raids came after security forces fired on funerals held Saturday for protesters who had been killed Friday. The numbers of dead that were reported varied, but The New York Times reports that at least 11 people died Saturday. At least 109 were killed Friday. The violence took place in the towns of Douma, Barza, Maadamiah, and Qabon, all near Damascus.
---