In shift, US considers sanctions against Syria's Assad regime
(Read article summary)
The Syrian Army's incursion into the town of Deraa on Monday is the first time it has joined Syrian security forces against protesters.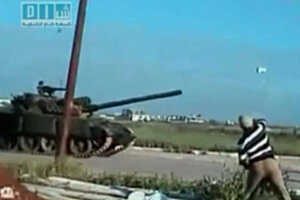 Social Media website via Reuters TV
• A daily summary of global reports on security issues.
The Obama administration is drafting sanctions against Syrian government officials responsible for the escalating violence against protesters, the Wall Street Journal reported.
After weeks of treading lightly as it weighed its support for the protesters with a desire to engage with Syrian President Bashar al-Assad, the White House seems to have come down on the side of the swelling ranks of protesters. Obama condemned the brutality of Syrian security forces after more than 100 protesters were killed in Friday's protests alone, as the total death toll climbed above 300 this weekend.
The sanctions would freeze senior government officials' assets in the US and prevent them from doing business with US companies. US sanctions alone wouldn't have much of an impact on the Assad regime, which has few holdings in the US, but they will be significant if European countries follow suit since President Assad and other officials are believed to have much larger holdings in Europe, according to the Journal.
---