Morocco bombing bears hallmark of Al Qaeda group
(Read article summary)
Thursday's bombing in a popular Morocco tourist spot killed at least 16, and could give Moroccan leaders reason to halt reform efforts instigated by prodemocracy protests.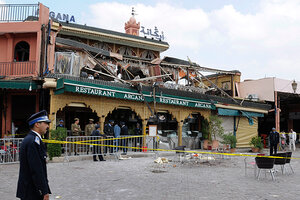 Tarik Najmaoui/AP
• A daily summary of global reports on security issues.
The death toll has risen to 16 in a Thursday bomb attack at a popular tourist spot in Marrakesh, Morocco. While no one has claimed responsibility for the attack, security experts told Reuters that it bore similarities to previous attacks by Islamic militants.
At least 10 of those killed in the Argana cafe overlooking the city's Djemma el-Fna Square were foreigners, according to the BBC. It is the first suicide attack since 2003, when suicide bombers killed 45 people, including themselves, in Casablanca. The square is a UNESCO World Heritage site and one of the top visitor spots in a country that relies heavily on tourism revenue – according to Reuters, it is the country's second largest industry, after agriculture.
"You can't find a more emblematic target than Jamaa-el-Fnaa square," a restaurant owner told the Guardian. "With this attack and amid the worrying unrest in the region, tourism will hit the doldrums."
---