Pakistan defends its terror record, warns US against future raids
(Read article summary)
In the wake of Osama bin Laden's killing, Pakistan is defending itself against accusations that it was complicit in hiding the Al Qaeda leader.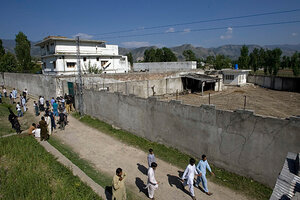 Anjum Naveed/AP
• A daily summary of global reports on security issues.
The killing of Osama bin Laden is adding fuel to the argument between Washington and Islamabad over whether Pakistan is doing enough to fight terror within its borders.
Despite initial comments that the operation was a "joint partnership," the US has since announced that Pakistan was not involved, nor privy to prior knowledge about the raid.
The fact that Washington acted unilaterally could increase anti-US sentiment among Pakistanis, many who are already angry over covert US operations and drone attacks.
On Tuesday, the Pakistani government called the bin Laden operation an "unauthorized unilateral action" and warned it "would not serve as a future precedent for any state, including the US."
The discovery that bin Laden was hiding in a city filled with military personnel has led to accusations that Pakistani intelligence was lax in its efforts to find bin Laden. Some Pakistan detractors have gone as far as accusing Pakistan's version of the CIA, Inter-Services Intelligence (ISI), of keeping him hidden.
---