Bin Laden considered 9/11 anniversary attack on US rail system
(Read article summary)
The potential plot, sketched out in a vague note last year, was more significant in that it showed that bin Laden was not just a figurehead of Al Qaeda but an active leader.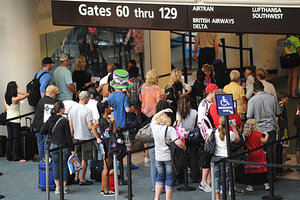 Stan Honda/AFP/Getty Images/Newscom
• A daily summary of global reports on security issues.
Documents found in the US raid on Osama bin Laden's compound indicate that Al Qaeda was plotting an attack on the US rail system, possibly for the 10th anniversary of the 9/11 attacks. The information, the first major disclosure from what may be the largest intelligence haul since 9/11, comes as Al Qaeda confirmed its leader's death in a statement on jihadist websites, saying that bin Laden's blood "would not be wasted."
The discovery of the documents in Mr. bin Laden's hideout show that he was actively involved in planning attacks, debunking the commonly held belief that he had been reduced to merely a figurehead of Al Qaeda while in hiding. "He continued to plot and plan, to come up with ideas about targets and to communicate those ideas to other senior Qaeda leaders," an unnamed US official briefed on the documents told The New York Times.
The US Department of Homeland Security disclosed the information in a statement issued Thursday, and the Transportation Security Administration (TSA) has warned rail companies of the suspected plot. This was the first release of information gleaned from the documents, computers, hard drives, and other items found in his compound in Abbottabad, Pakistan.
---
Follow Stories Like This
Get the Monitor stories you care about delivered to your inbox.