Syria detains hundreds, hindering protesters' efforts to organize
(Read article summary)
Syrian security forces detained hundreds in a door-to-door arrest campaign today – a tactic that appears to be borrowed from Iran.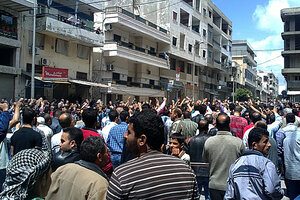 AP
• A daily summary of global reports on security issues.
Syrian security forces went door-to-door in cities throughout the country today, detaining hundreds of people in an attempt to thwart antigovernment protests that began in mid-March. The tactic appears to be borrowed from Iran, which shut down a massive antiregime protest movement of its own two years ago and is reportedly taking an increasing role in helping Syria's Assad regime contain the revolt.
Today's Syrian raids targeted the coastal city of Banias, the city of Homs in eastern Syria, some of the Damascus suburbs, and towns around the southern city of Deraa, where the protests first erupted in March, the Associated Press reports.
At this point, the death toll is estimated to have topped 800, according to human rights groups in contact with people in the country, and tanks and troops are deployed in several cities, imposing curfews and communication blackouts. Large numbers of military troops and tanks moved into Homs, Banias and Tafas, outside Deraa, on Sunday.
Reports vary about the number of newly dead in those cities, Homs in particular. All reports cite gunfire and casualties.
---