UN aid chief: If Libya's fighting continues, the country will run out of food
(Read article summary)
Fighting, particularly in Misratah, has interrupted the supply lines that provide Libya with food, fuel, and other essentials. Meanwhile, Tripoli sees heaviest bombings in weeks.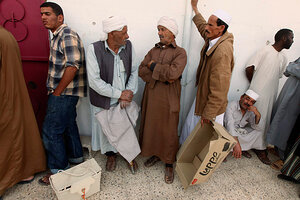 Mohammed Salem/Reuters
• A daily summary of global reports on security issues.
The United Nations aid chief has called for a pause in fighting in Libya to provide a window of time to address dire supply shortages.
The shortages, which could soon create a humanitarian crisis, are partly a result of sanctions that have disrupted the country's supply lines as well as "paralyzing" fighting, said Valerie Amos, the UN aid chief. Libya's food supply will only last a couple more months, BBC reports.
Meanwhile, NATO bombed Tripoli Tuesday morning in its heaviest air campaign against the capital city in weeks. The strikes hit at least four sites in Tripoli, possibly including the compound where the family of leader Col. Muammar Qaddafi lives, according to the Associated Press.
One of the buildings hit was used by the military intelligence agency, according to local residents, and another was used by parliament members as a research library.
---