US was prepared for a fight with Pakistan during bin Laden raid
(Read article summary)
President Obama authorized US troops to fight Pakistani forces if they interfered during the raid on Osama bin Laden's compound, highlighting the poor state of the US-Pakistan relationship.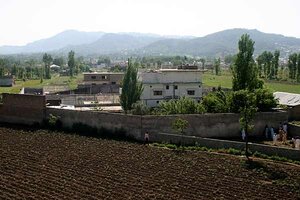 Aqeel Ahmed/AP
[This story was updated at 9:15 a.m. EST.]
• A daily summary of global reports on security issues.
The American forces who raided Osama bin Laden's compound were authorized and equipped to fight Pakistani forces and police if they interfered with the operation that killed the terrorist leader.
The disclosure that the US was willing to risk a military confrontation with its ally is yet another sign of the low trust between the US and Pakistan. Last week American officials said that the US opted not to tell Pakistan about the mission or Mr. bin Laden's whereabouts beforehand because it could not be sure that Pakistan would not leak the information.
The US increased the number of forces involved in the mission about 10 days before the operation, after President Obama questioned whether the US would be able to fight its way out if Pakistani forces showed up and tried to block American forces from carrying out the operation, The New York Times reports.
"Some people may have assumed we could talk our way out of a jam, but given our difficult relationship with Pakistan right now, the president did not want to leave anything to chance," a senior administration official told the Times. "He wanted extra forces if they were necessary."
---