Libya rebels mark major gains against Qaddafi
(Read article summary)
Libya rebels reclaimed the Misurata airport yesterday. As they advance on the eastern oil town of Brega, Britain offered them several million dollars in aid and a London office.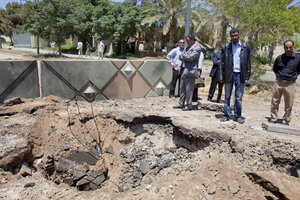 Darko Bandic/AP
• A summary of global reports.
Libya's rebels on Wednesday marked major gains against the forces of Muammar Qaddafi, seizing control of the Misurata airport, advancing on the strategic oil town of Brega, and welcoming more defections from Qaddafi's government.
The rebels were boosted by international support, as NATO airplanes bombed the capital of Tripoli overnight and Britain invited the rebels' National Transitional Council to set up an office in London.
The advances come after nearly three months of fighting that have seen the rebels make major advances only to be beaten back by Col. Qaddafi's troops, with both sides digging in for what seemed to be a fight with no end in sight.
Gains on either side remain tenuous.
"The rebels may be getting the upper hand because of external support, but it is too early to call," Theodore Karasik, director of research at the Dubai-based Institute for Near East and Gulf Military Analysis, told Bloomberg. "We have to wait to see if another brick wall emerges. Qaddafi may have more tricks up his sleeve."
---