Pakistanis cast doubt on Taliban's role in bin Laden revenge attack
(Read article summary)
The Pakistani Taliban claimed responsibility for an attack avenging bin Laden's death today. But local police doubt that the Taliban was directly involved, or that revenge was the main motive.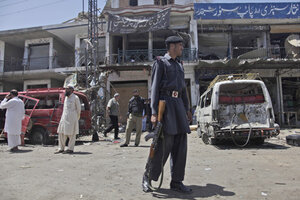 Muhammed Muheisen/AP
• A daily summary of global reports on security issues.
The Pakistani Taliban claimed responsibility for two suicide bombings Friday morning in Pakistan's northwest that killed at least 80 people, saying they were meant to avenge Osama bin Laden's death.
"This was the first revenge for Osama's martyrdom. Wait for bigger attacks in Pakistan and Afghanistan," said Pakistani Taliban spokesman Ehsanullah Ehsan, according to Agence France-Presse (AFP).
But despite public anger over the US raid that killed bin Laden in his Abbottabad compound, the Taliban's purported revenge attacks today don't appear to have resonated with Pakistanis.
Local police told The New York Times that they doubt the Taliban is actually responsible for the attack, which they believe was a response to a Pakistani Army assault against Taliban militants in a nearby mountain region called Mohmand and was carried out by a splinter group that has been fighting the Army in the region.
---