Israel's Netanyahu primed for a 'collision' with Obama today
(Read article summary)
President Obama is hosting Israeli Prime Minister Benjamin Netanyahu, who has sharply criticized Obama's call for a return to 1967 borders, calling them 'indefensible.'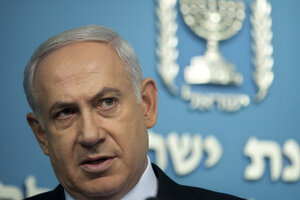 Sebastian Scheiner/AP
• A daily summary of global reports on security issues.
Israeli Prime Minister Benjamin Netanyahu is set to push back hard against President Obama at the White House today, a day after the American president called for Israel to return to the peace table and make difficult territorial concessions to the Palestinians. The conservative Jerusalem Post summed it up as "The speech that signals a Washington-Jerusalem collision."
Mr. Obama called for Israel's pre-1967 borders to serve as a basis for negotiations in a two-phased negotiation process that would leave the stickier issues of Jerusalem and Palestinian refugees to be resolved later. Also Thursday, Israel announced the construction of 1,500 new housing units in East Jerusalem, which it conquered along with the West Bank in the 1967 war against its Arab neighbors. Palestinians claim East Jerusalem as the capital of their future state.
---