Britain sends attack helicopters to Libya. Is this mission creep?
(Read article summary)
The decision to introduce highly precise helicopters that can target Qaddafi fighters ensconced among civilians has heightened concerns about the true aim of the mission in Libya.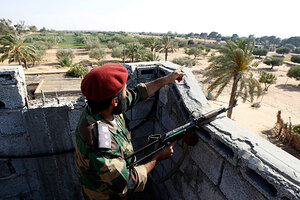 Zohra Bensemra/Reuters
• A daily summary of global reports on security issues.
Within days of US President Barack Obama and British Prime Minister David Cameron vowing to ramp up pressure on Libyan leader Muammar Qaddafi, the British government approved the use of its Apache helicopters in Libya. While the helicopters could help NATO break the current stalemate, they have also heightened concerns about the expansion of a mission that more now see as a thinly veiled attempt at regime change.
NATO has succeeded in stopping a bloodbath as Mr. Qaddafi's forces closed in on the rebels in March, which were killing hundreds of civilians as they advanced, prompting a United Nations resolution. But the conflict has since reached a stalemate. The attack helicopters would allow NATO forces to get closer to the ground and shoot more precisely, a boon in urban areas where Qaddafi's troops have ensconced themselves among civilians, making it impossible for NATO to attack them from fighter jets without risking civilian casualties.
However, the helicopters also come with more risk for the pilots because they are closer to the ground and moving more slowly, making them easier targets for Qaddafi's forces on the ground. Reuters reports that NATO announced today that it will put the helicopters into action as soon as they are ready.
---