Saleh deploys US-trained counterterrorism forces as tribes escalate fight
(Read article summary)
Gen. Ali Moshen al-Ahmar, a top military leader who defected in March, has backed the powerful Hashid tribal confederation with 1,000 troops of his own.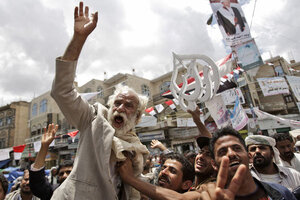 Hani Mohammed/AP
• A daily summary of global reports on security issues.
The pitched battle between President Ali Abdullah Saleh's forces and one of Yemen's oldest and largest tribal confederations has escalated to a level unseen in the capital for nearly half a century, with both sides bringing in reinforcements.
Gen. Ali Mohsen al-Ahmar, a top military leader who defected in March, deployed about 1,000 of his troops against President Saleh's forces for the first time Wednesday night to back up fighters from the Hashid tribal confederation, the Wall Street Journal reported. The confederation is led by Sadiq al-Ahmar (not related to the general). Sheikh Ahmar, along with his brothers, presents one of the biggest challenges to Mr. Saleh's grip on power.
Saleh, for his part, has deployed US-trained-and-funded counterterrorism forces against Ahmar's tribal fighters, according to the Journal, though the US says it has no evidence that Saleh has used the troops – intended to fight Al Qaeda in the Arabian Peninsula – against his political opponents.
Abdullah al-Faqah, a professor of politics at Sanaa University, described the battle as the worst the capital has seen in 50 years, Time magazine reports.
---