US, worried about Al Qaeda in Yemen, urges Saleh to step down immediately
(Read article summary)
With Yemeni violence persisting as President Saleh convalesces in Saudi Arabia, US Secretary of State Hillary Clinton recommended an immediate transition to a new government.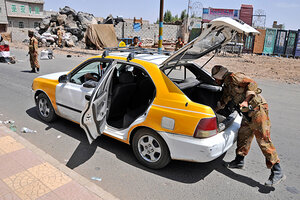 Mohammed Al-Sayaghi/AP
• A daily summary of global reports on security issues.
Secretary of State Hillary Clinton urged Yemeni President Ali Abdullah Saleh to allow an "immediate transition" to a new president and unity government, seeking to limit Yemen's political chaos. The US fears that Islamist militants are taking advantage of the power vacuum and upheaval in Sanaa to expand their network in the country's south.
"We think an immediate transition is in the best interests of the Yemeni people," Secretary Clinton said Monday in Washington, according to the Post.
Yemeni government officials insist that President Saleh will be home within days, but they are split over whether to support the establishment of a new unity government now or await Saleh's return. Saleh traveled to Saudi Arabia over the weekend for medical treatment after his presidential compound was shelled, leaving him with a collapsed lung and burns on 40 percent of his body, CNN reports.
The Washington Post reports that the foreign minister and Vice President Abdul Rabu Mansoor Hadi, the acting president while Saleh is recovering, said that Saleh's time was over and pushed for the establishment of a new interim government. Other officials said the proposal was equivalent to a coup.
---