Gates rebukes Europe for lacking commitment to NATO
(Read article summary)
Secretary of Defense Gates said today in Brussels that NATO isn't pulling its weight in Afghanistan and Libya. Without more support from Europe, he said, NATO's future is 'dim if not dismal.'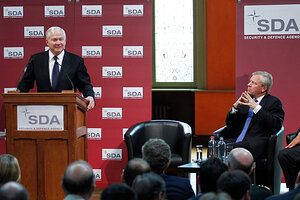 Francois Lenoir/Reuters
Secretary of Defense Robert Gates has spent his final weeks before retirement making a number of candid remarks about US foreign policy, but on Friday he offered one of his bluntest criticisms yet, this time directed at the NATO alliance.
Mr. Gates slammed NATO for its limited commitment to Afghanistan and their inability to conduct operations in Libya without substantial US support. Without serious changes, he warned that NATO faced "a dim if not dismal future" and that Americans may begin to question the value of maintaining the relationship.
"The blunt reality is that there will be dwindling appetite and patience in the US Congress – and in the American body politic writ large – to expend increasingly precious funds on behalf of nations that are apparently unwilling to devote the necessary resources or make the necessary changes to be serious and capable partners in their own defense," said Mr. Gates in an article by the Associated Press.
The remarks, delivered at the Bibliothèque Solvay in Brussels, came as Gate's final policy speech while in office. Having served under eight US presidents and headed the Pentagon under the administrations of both George Bush and Barack Obama, Politico reports that the speech likely reflects Gates's desire to leave a legacy as someone who was strong on defense despite his willingness to work closely with leaders on both sides of the political spectrum.
---