Pakistan arrests CIA informants who helped US nab Osama bin Laden
(Read article summary)
The arrest of five Pakistani CIA informants whose information helped lead the US to Osama bin Laden's compound is likely to fuel tensions and intensify congressional questions about aid to Pakistan.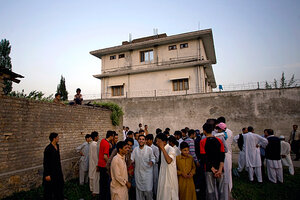 B.K.Bangash/AP/File
• A daily summary of global reports on security issues.
Pakistan has arrested five Pakistani CIA informants who gave information to the US that led to the raid of Osama bin Laden's compound, The New York Times and Associated Press reported Wednesday. Though both the US and Pakistan claim to be crucial partners in the battle against terrorism, the news is the most recent in a series of blows to the US-Pakistan relationship, which is already suffering because of a lack of trust on both sides.
The US sees the US-Pakistan counterterrorism partnership as crucial to ending the war in Afghanistan. But it has received a significant amount of pushback from Pakistan in recent months to its various counterterrorism efforts, particularly the drone program that targets militants in Pakistan's northwest, along the Afghan border.
The Pakistani intelligence agency, Inter-Services Intelligence (ISI), meanwhile, has been increasingly unwilling to work with the CIA on surveillance or to grant visas to American intelligence agents. A partnership in which the US trained Pakistani paramilitary troops has also been put to an end, the Times reports. And Pakistanis are becoming highly critical of their military for allowing the US to act unilaterally on Pakistani territory.
---