Ayman al-Zawahiri: Who is Al Qaeda's new leader?
(Read article summary)
Ayman al-Zawahiri, Al Qaeda's operational leader for many years, will succeed Osama bin Laden as the terror group's new chief.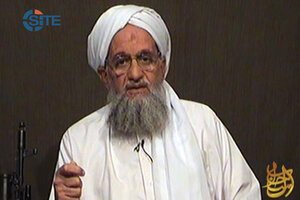 Site Intelligence Group/AFP Photo/Newscom
• A daily summary of global reports on security issues.
Several jihadist websites posted a statement Thursday announcing Ayman al-Zawahiri as Al Qaeda's new leader, taking over the terror group after Osama bin Laden was killed in an early May raid in Pakistan.
Mr. Zawahiri's reported selection is no surprise – he was widely perceived as bin Laden's heir apparent. Speculation in mid-May that Al Qaeda would choose another Al Qaeda leader, Egyptian Saif al-Adel, never materialized. According to CNN, one of the statements said that Zawahiri was chosen to honor bin Laden's legacy.
Zawahiri, who is believed to be hiding in northwest Pakistan, has a $25 million price on his head from the FBI (the same amount offered for bin Laden) for his involvement in the 1998 bombing of US embassies in Kenya and Tanzania. After bin Laden's death, he became the world's most-wanted terrorist.
---