NATO: We're to blame for Sunday's civilian deaths in Libya
(Read article summary)
NATO's unprecedented acknowledgment of responsibility for civilian deaths is raising doubts about the alliance's prolonged campaign in Libya, which was supposed to save civilian lives.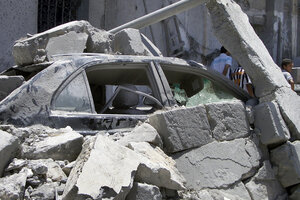 Adam Schreck/AP
• A daily summary of global reports on security issues.
NATO admitted for the first time in its Libya campaign that it was responsible for civilian casualties, taking responsibility for an airstrike on a civilian home in Tripoli on Sunday that killed nine and injured many more.
The mistake was probably caused by a "weapons system failure" that led a weapon intended for a military target to go astray, it said. Earlier this weekend, it made its first admission of guilt for an accidental strike on Libyan rebels.
Libyan officials accused NATO of purposely targeting civilians to turn them against Qaddafi, and government spokesman Moussa Ibrahim said that civilians casualties used to be "collateral damage" but are now "direct hits," the Los Angeles Times reported.
Civilian casualties in a war that began as a military campaign to save civilian lives are raising questions about what NATO is achieving in Libya. As the effort enters its fourth month, NATO officials are showing signs of dissent about the course of action. The strikes could back up criticism in the US Congress about the operation, which some say is too unfocused and dependent on European allies that are inadequately equipped to handle the mission, The New York Times reports.
---