Afghanistan drawdown: Germany and France follow Obama's lead
(Read article summary)
US allies in Europe are mostly supportive of Obama's withdrawal plan, saying the time is right.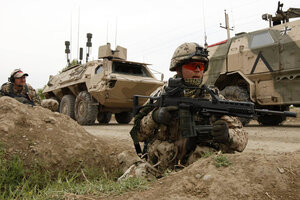 Fabrizio Bensch/Reuters/File
• A daily summary of global reports on security issues.
President Obama's Afghanistan withdrawal announcement Wednesday night opened the door for European countries involved in the war to announce their own withdrawal plans. The prospect of drawdown is likely to be popular in Europe, but like US military officials, some European officials expressed concern that the withdrawal is coming too soon.
Ten thousand US soldiers will be pulled out by the end of 2011. Another 20,000 or so will come home by summer 2012 and the remaining troops – about 100,000 – will be drawn down steadily until full responsibility is handed over to Afghanistan in 2014.
Britain, the second largest contributor to NATO forces, previously pledged to withdraw its 10,000 troops by 2015. After Mr. Obama's announcement, Prime Minister David Cameron would only say that Britain would keep its troop levels "under constant review" and that he would withdraw some of them earlier than 2015 if circumstances allowed, The Guardian reported.
British Chief of Defense Staff Gen. Sir David Richards said that Afghanistan's insurgency is under "real and sustained pressure" and that he supported Obama's plans for withdrawal.
---