Israel threatens to punish journalists for covering Gaza flotilla
(Read article summary)
A flotilla of activists preparing to challenge the Israeli blockade of Gaza is expected to leave Greece this week.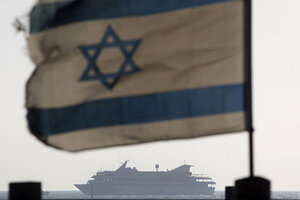 Ariel Schalit/AP/File
• A daily summary of global reports on security issues.
Hundreds of activists are preparing to set sail for Gaza from Greece this week in an effort to break the Israeli embargo on the Palestinian territory despite Israel's warnings that it will not allow the fleet to reach Gaza and will punish journalists who cover the news from the flotilla.
The event comes a little more than a year after nine Turkish activists were killed when Israeli commandos intercepted a flotilla also attempting to reach Gaza. The international uproar that ensued led Israel to ease the blockade on Gaza, and greatly damaged its relationship with its key strategic ally, Turkey.
Israel is eager to avoid another violent confrontation that would increase international pressure, but it is not expected to back down from its commitment to prevent the ships from reaching Gaza. The country began limiting the flow of goods and people in and out of Gaza in 2006 when Hamas militants captured Israeli soldier Gilad Shalit, who is still in captivity. The embargo was tightened when Hamas took over the territory in 2007.
A warning to foreign journalists
---