Nigeria Islamist group Boko Haram blamed for escalating violence
(Read article summary)
Nigerian Islamist group Boko Haram is suspected in Sunday's deadly attacks on beer gardens, the latest since the inauguration of a Christian president May 29.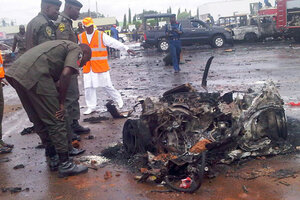 Nema/AFP Photo/Newscom
• A daily summary of global reports on security issues.
At least 25 Nigerians were killed Sunday night when motorcyclists threw bombs into outdoor beer gardens in the northeastern city of Maiduguri (see map). No group has claimed responsibility yet, but local police say the attack bore the hallmark of the Islamist group Boko Haram.
The attack underscores a deterioration of security in Nigeria's predominantly Muslim north – particularly since President Goodluck Jonathan, who comes from the mainly Christian south, was inaugurated on May 29. Boko Haram is fighting for the implemention of sharia (Islamic law), including a ban on alcohol, and has demanded an Islamic state.
---