France admits it armed Libyan rebels
(Read article summary)
France's admission Wednesday that it provided weapons to Libyan rebels renews debate on the legality and wisdom of arming rebels in conflicts whose outcome is unpredictable.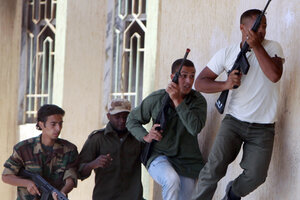 Amr Abdallah Dalsh/Reuters
• A daily summary of global reports on security issues.
France revealed Wednesday that its forces parachuted weapons to Libya's rebels earlier this month, making it the first NATO country to disclose that it provided arms to rebel forces and renewing debate on the merits of such action.
The ambiguous wording of UN Resolution 1973, which authorized foreign intervention in Libya, has led to clashing interpretations of what is allowed under the guise of protecting civilians. There is no consensus on whether arming the rebels is permissible under the resolution's guidelines. According to NATO, France is the only country to provide weapons, the Associated Press reported.
UN Resolution 1970, passed in February, placed an arms embargo on the country, and some critics consider providing weapons to the rebels a violation of that resolution. However, resolution 1973, passed in March, offers a loophole in the arms embargo, according to proponents of arming the rebels, Reuters reports.
In exceptional circumstances, we can not implement paragraph 9 [of resolution 1970] when it's for protecting civilians," [French ambassador to the UN Gerard] Araud said.
---