Clinton warns Syria's Assad that time is running out
(Read article summary)
Speaking at a democracy conference in Lithuania, Clinton said that the US – which has long sought to engage Syrian President Bashar al-Assad – is looking for 'actions, not words.'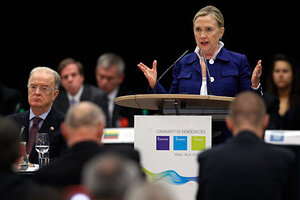 Mindaugas Kulbis/AP
• A daily summary of global reports on security issues.
Secretary of State Hillary Clinton warned the Syrian government Friday that it was running out of time to implement reforms and that without action, it would only face further resistance.
"It is absolutely clear that the Syrian government is running out of time. They are either going to allow a serious political process that will include peaceful protests to take place throughout Syria and engage in a productive dialogue with members of the opposition and civil society, or they're going to continue to see increasingly organized resistance," Secretary Clinton said at a news conference in Lithuania, Reuters reports.
Clinton is there for a conference with international democracy organization Communities for Democracy.
"We regret the loss of life and we regret the violence, but this choice is up to the Syrian government. And, right now, we're looking for action not words and we haven't seen enough of that," she said.
Allowing the opposition to meet once – they held a conference in Damascus earlier this week – is an inadequate response to protesters' demands, she said, particularly since it happened as government troops continued their crackdown in northern Syria. "It doesn't appear that there's a coherent and consistent message coming from Syria," she said.
---