Russian official claims Qaddafi willing to cede power in Libya
(Read article summary)
Despite the Russian media report, the Libyan government denies Qaddafi will consider stepping down and rebels say he must face justice.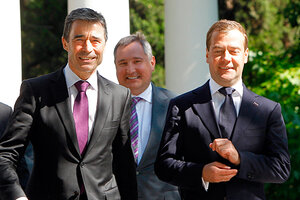 Vladimir Rodionov/RIA Novosti/Kremlin/Reuters
• A daily summary of global reports on security issues.
The Russian media is reporting that, according to an anonymous Russian official, Libyan leader Muammar Qaddafi is willing to step down from power if he receives security guarantees. The report comes amid a diplomatic push to end the Libyan war by Russia, which has vocally criticized NATO's tactics in Libya. But other statements by both the Libyan government and the rebels cast doubt on whether Mr. Qaddafi's willingness to depart is real.
"The colonel [Qaddafi] is sending signals that he is prepared to relinquish power in exchange for security guarantees," Kommersant quoted the official as saying, according to Reuters. (See original report in Russian here.) Other countries have already said they're willing to provide the guarantees.
However, Reuters also reports that Qaddafi's son, Saif al-Islam, said there would be no negotiations to end his father's rule, while the rebel government withdrew its offer for Qaddafi to stay in the country if he steps down – a condition that Qaddafi has insisted on.
The Russian report comes a day after South African President Jacob Zuma and NATO Secretary General Andre Anders Fogh Rasmussen visited Russia to meet with officials there about negotiating a resolution.
---