After mass arrests, authorities shrug off rare Malaysia protests
(Read article summary)
This weekend's turnout of at least 20,000 protesters, despite government warnings not to participate, could galvanize opposition support ahead of upcoming elections.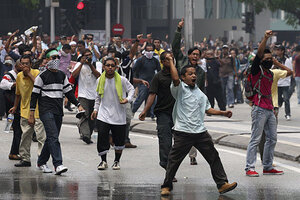 Lai Seng Sin/AP
• A daily summary of global reports on security issues.
Malaysian police cracked down on an opposition rally Saturday, using tear gas and water cannons to disperse the more than 20,000 people who had gathered in the capital, Kuala Lumpur, to demand election reforms.
One person died and more than 1,600 were arrested in the country's largest demonstration in four years, though authorities say the detained were later released.
The huge turnout, despite a security lockdown in the capital and government warnings not to participate in the gathering it had deemed illegal, was a significant show of dissatisfaction with the ruling coalition and could affect upcoming elections. The protesters were calling for a more a transparent voting process and changes to prevent irregularities they say help the ruling coalition.
The crackdown
Police put up barriers, blocked roads and shut down train stations, then sent water cannons and riot police with tear gas to the protest. The AFP international news service reports that a man died while running away from a police tear gas attack during the demonstration, while the police claimed he was a bystander who died of a heart attack. A police spokesman said that the 1,667 people arrested for illegal assembly Saturday, including opposition leaders, were released near midnight.
Malaysian newspaper Malaysia Kini reports that police used excessive force on demonstrators during the protest. The paper reports that police kicked protesters who had fallen to the ground, rammed protesters with police cars, and fired tear gas canisters directly into the crowd, where they injured people, rather than into the air.
An attempt to hurt Malaysia?
Malaysia's Prime Minister Najib Razak Sunday defended the crackdown, saying the protest was an attempt to hurt Malaysia's reputation, reports AFP.
---