Mumbai attacks spark outrage in city fed up with terrorism
(Read article summary)
While Indian officials praised the city's resilience after Wednesday's blasts, Mumbai residents said they are simply resigned to life under threat.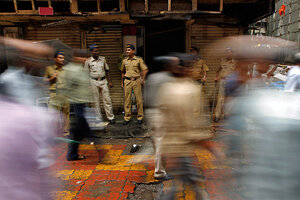 Saurabh Das/AP
• A daily summary of global reports on security issues.
Indian officials remain unsure about who is behind Wednesday's blasts in Mumbai, in which three bombs went off in different spots in the city, but Mumbaikers and others across the country know that regardless of the investigation's outcome, they are fed up with the government's inability to tamp down terror.
The only concrete clue so far is the sophistication of the bombs used, implying that the bombers had explosives training and may have used timers to synchronize the explosions, according to The New York Times. "They were not crude bombs but sophisticated devices," Home Secretary R.K. Singh said. "Only somebody who has training can assemble those devices."
Rain has hampered efforts to gather evidence from the sites and no potential suspects have been identified.
Inspection of footage from surveillance cameras revealed persons behaving suspiciously at the scenes of the attacks, but no more is known about them, BBC reports. The owner of a scooter in which explosives were planted has been identified as well, according to the Indian Express.
---