China, ASEAN reach South China Sea agreement
(Read article summary)
The deal between Chinese officials and representatives of Southeast Asian countries is a big step, but doesn't address the key source of tension: territorial claims.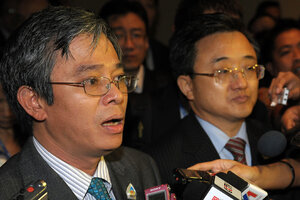 Widodo S. Jusuf/Antara/Reuters
• A daily summary of global reports on security issues.
China and several Southeast Asian nations have agreed on a preliminary set of behavioral guidelines in the South China Sea, a resource-rich body of water critical to global shipping that is claimed by China and by several other countries in the region.
A Chinese diplomat said the agreement with the Association of Southeast Asian Nations (ASEAN) was reached at a meeting today of Asian security officials in Bali, Indonesia. China has long resisted signing any document that would require any disputes in the South China Sea be resolved without using or threatening any violence, the Associated Press reports.
Despite today's agreement, no decisions have been made on territorial claims. China, the Philippines, Malaysia, Brunei, Vietnam, and Taiwan all claim territory in the South China Sea, Reuters reports. China claims it in its entirety.
---