Syria threatens to expel US ambassador
(Read article summary)
Syria has warned Ambassador Robert Ford not to leave Damascus. That complicates the new US strategy of strengthening the opposition so it can bring about democratic change.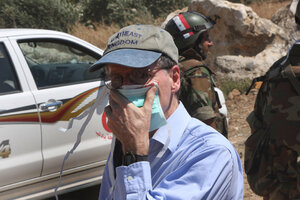 Bassem Tellawi/AP
• A daily summary of global reports on security issues.
The Syrian government warned US Ambassador Robert Ford yesterday that he risked being expelled from the country if he leaves Damascus again. That threat, coming after Mr. Ford's recent visit to protesters in the flashpoint city of Hama, could potentially complicate the Obama administration's push for a democratic transition in Syria.
According to unnamed administration officials quoted by Washington Post Opinion writer David Ignatius, Ford was seen as leading an effort to unify Syria's diverse opposition movement and help establish solid democratic leadership. One official went so far as to call the ambassador the "vehicle for transition."
Time reports that the opposition's many divisions may be too many and too varied to overcome – and that even if the loose-knit movement did manage to become more unified, it has no clear strategy for unseating the regime.
---