Assassination of Libya's rebel military leader brings tribal divisions to forefront
(Read article summary)
The murky death of Gen. Abdul Fateh Younes, who led Libya's rebel forces, has called into question rebels' ability to transcend tribal divisions and their credibility to lead a democratic transition.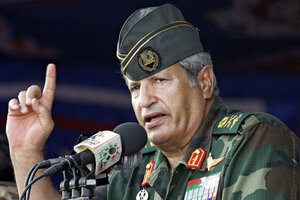 Sergey Ponomarev/AP
• A daily summary of global reports on security issues.
The death of Libyan rebel military leader Gen. Abdul Fateh Younes, announced Thursday by the government in Benghazi, risks inflaming rivalries within the rebels' ranks and thus weakening their fight against Col. Muammar Qaddafi.
The gunfire and angry threats that erupted from members of Younes's tribe, the Obeidi, after the announcement is a reminder of deep tribal divisions among Libyans and calls into question their credibility, The New York Times reports.
"The specter of a violent tribal conflict within the rebel ranks touches on a central fear of the Western nations backing the Libyan insurrection: that the rebels' democratic goals could give way to a tribal civil war over Libya's oil resources. Colonel Qaddafi has often warned of such a possibility as he has fought to keep power, while the rebel leaders have argued that their cause transcends Libya's age-old tribal divisions."
---