China blames weekend's clashes in Xinjiang on separatists trained in Pakistan
(Read article summary)
China accused a Muslim separatist group that they say trained in Pakistan for a series of weekend attacks in Xinjiang. Locals counter that the violence is homegrown.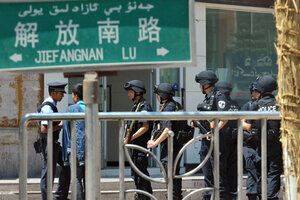 Kyodo News/AP
• A daily summary of global reports on security issues.
The Chinese government blamed the local Muslim minority for weekend violence in the northwestern province of Xinjiang (see map) that left at least 18 people dead in three separate attacks. According to Chinese authorities, the suspects trained in camps over the Pakistan border.
In the city of Kashgar, where the attacks took place, tensions constantly simmer between the indigenous Muslim Uighur minority and the Chinese government. The Uighurs accuse the government of religious repression, "plundering" the region's oil resources, and bringing scores of ethnic Han Chinese to the region to give them a majority, the Wall Street Journal reports.
In the first of the attacks on Saturday night, men hijacked a truck, killed the driver, and drove the truck into a crowd. They also stabbed several people after getting out of the truck, the Los Angeles Times reports. Blasts went off elsewhere in the city that same night and again on Sunday at a downtown restaurant, possibly as a distraction. When people rushed to the scene of the Sunday bombing, men began stabbing them.
---