Japan's fresh claim to disputed islands reignites feud with South Korea
(Read article summary)
A Japanese defense report released today reiterates the country's claims to a small chain of islands that South Korea also claims as its own.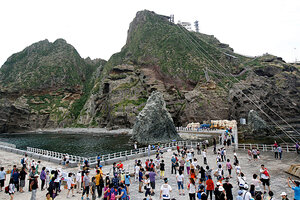 Lee Sang-hack/Yonhap/AP
• A daily summary of global reports on security issues.
A diplomatic showdown between Japan and South Korea is heating up over group of tiny rock outcroppings in the Japan Sea.
Japan released its 2011 defense report today, reiterating its claim to a chain of small islands (see map here) also claimed by South Korea.
The document comes a day after South Korea denied three Japanese lawmakers entry into the country. The three intended to visit Ulleung Island, the South Korean island closest to the disputed chain, known as the Dokdo Islands in South Korea and the Takeshima Islands in Japan. South Korean officials told the lawmakers that the visit could "trigger actions that would threaten public safety," the Japan Times reports.
The topic is so sensitive that even the talk of a visit launched protests in South Korea.
---