Syrian forces attack two more flashpoint cities
(Read article summary)
Attacks on the central city of Houleh and the eastern city of Deir El Zour come on the heels of the Syrian regime's new promise to hold free and fair elections.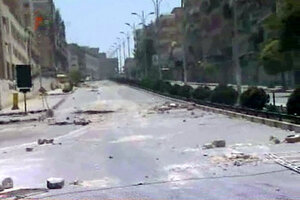 SANA
• A daily summary of global reports on security issues.
Syrian forces attacked two more cities Sunday that have been flashpoints for anti-regime protests, a week after bombarding and laying siege to Hama, a city that has been central to the five-month-old uprising against President Bashar al-Assad.
The attacks, which killed at least four people, come a day after Syria's foreign minister said the country would hold free and fair elections, a promise unlikely to end the uprising and subsequent bloody crackdowns. They also come one day after Gulf nations criticized the violence in Syria, adding to an international chorus of condemnation over a bloody government crackdown that has killed more than 1,600 people.
The six-country Gulf Cooperation Council called for an immediate halt to the violence, for implementation of reform, and expressed concern for "the escalating violence in Syria and use of excessive force."
The Syrian regime has called the protesters armed gangs trying to harm the nation.
Syrian troops attacked the city of Houleh, in central Syria and stormed Deir El Zour in eastern Syria Sunday. Both cities had seen large anti-government protests.
The Associated Press reports that a rights group claimed at least four people were killed Sunday in Houleh, while a local coordinating committee claims seven deaths. In Deir El Zour, an activist told the AP that troops stormed the city at 4 a.m., attacking from four sides and taking control of eight neighborhoods. The number of casualties is unclear because many people are being treated in homes and mosques when they cannot reach the hospital. "Human conditions in the city are very bad since it has been under siege for nine days," the activist told the AP. "There is lack of medicine, baby formula, food stuff and gasoline. The city is totally paralyzed."
---