Turkey risks Syria's friendship in last-ditch effort to end violence
(Read article summary)
Turkish Foreign Minister Davutoğlu is in Damascus today to warn Syria's President Assad against continuing his crackdown on the country's uprising.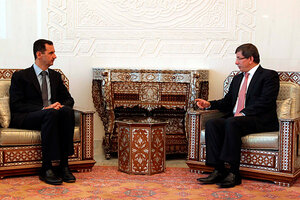 Hakan Goktepe/Turkish Foreign Ministry/Reuters
Turkey is today sharply ratcheting up the pressure on Syria, warning Syrian President Bashar al-Assad that he could risk "Saddam-like" isolation if he does not halt his brutal crackdown on Syrian protesters.
As Syria's friend, neighbor, and largest trading partner, Turkey considers the issue to be primarily of domestic concern. But its outspoken demands for Syria could precipitate wider international action.
Foreign Minister Ahmet Davutoğlu is personally conveying the message to President Assad in Damascus, where representatives of India, South Africa, and Brazil were also arriving today to push for an end to violence. Assad already faces condemnation from the UN Security Council, Saudi Arabia, the Arab League, and the Gulf Cooperation Council. Saudi Arabia, Kuwait, and Bahrain have withdrawn their ambassadors to Damascus.
---