London riots push British leaders to approve harsher police tactics [VIDEO]
(Read article summary)
The British public is asking why it took so long for the government to authorize the use of weapons like rubber bullets against rioters. But it is unclear how effective they will be in quelling the riots.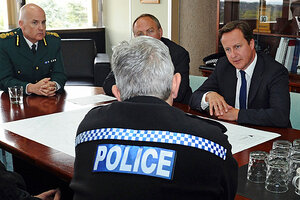 Paul Ellis/Reuters
• A daily summary of global reports on security issues.
The fact that it took British police days to quell rioting and looting in London's streets – and that it continues elsewhere – has many British asking why the police are so reluctant to turn to more aggressive tactics.
While police brought much of London under control overnight Tuesday, residents wondered what took them so long, the Monitor reported today.
"It's good to see so many police on the streets, but where were they last night when everything was going off?" lawyer Samantha Jones, who lives in [Clapham Junction, in South London]. "People were definitely fearful last night about what happened and frightened. This area is normally really buzzy this time of night, but not tonight. I don't know whether they're still scared or intimidated by all the police but people seem to just want to go home … like me."
The British government has now authorized the use of water cannons and plastic and rubber bullets in quelling the riots (the latter of which has have never been officially used by police on the British mainland), but the permission comes several days after riots and looting turned parts of London into a smoldering husk – too late, according to many London residents.
Normal crowd control methods failed, Telegraph opinion editor Daniel Knowles writes, but no one seems to know what to do next.
---